Restorative Dentistry
Porcelain crowns and veneers in Barrow-in-Furness
When your natural teeth have been damaged, whether by decay or accident, we aim to restore the tooth if possible as an alternative to extraction. Restorative treatments range from simple composite (white) fillings to bridges and include ceramic crowns and veneers.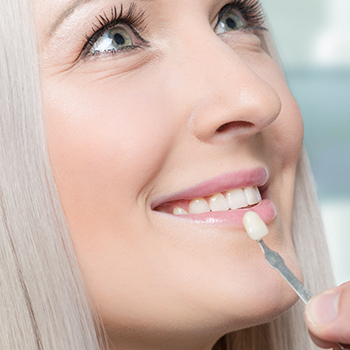 At Teckkam Dental, we are pleased to offer the latest composite technology – Grandio Composite. Its breakthrough formulation allows for a highly aesthetic restoration with exceptional strength.
Custom made e.max® crowns
Crowns are placed over affected teeth to restore their shape, size or strength. They are usually used to cover heavily filled, decayed or broken teeth, as well as to provide strength after root canal treatment.
For years, traditional metal crowns have been used to strengthen or rebuild teeth. Today, porcelain crowns and pressed ceramic crowns, such as e.max crowns, are an effective, aesthetic option which are completely metal-free. They are made bespoke to you, to match the exact colour, texture and translucency of your natural teeth.
e.max® crowns have improved strength due to the way they are constructed in the laboratory. They are pressed to full contour with no layering, providing strength with no weak spots or risk of porcelain fracture. In addition, the fitting surface of the crown is etched and bonded to the prepared tooth, which makes the tooth and crown combine into one structure with a very low risk of fracture.
Porcelain Veneers are thin shells that are used to cosmetically improve a smile while still maintaining healthy tooth structure. Tooth coloured porcelain shells, veneers are custom-made to bond to the front surface of your teeth. They can best be described as being like false fingernails for your smile.
Porcelain Veneers can give you a complete smile makeover, by covering stained or damaged teeth, closing the spaces between teeth and enhancing their shape and size.
e.max® veneers, like e.max® crowns, are notable for their superior strength and bespoke aesthetics. We will make your veneers match not only your other teeth, but the overall shape and tone of your face so your new smile will look as though you were born with it.
Book a consultation
Interested in a particular treatment and want to know more? Book an initial consultation at the practice today, your new smile could be just one click away!